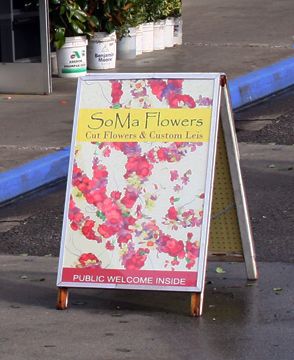 Contact Us
---
SoMa Flowers
Cut Flowers & Custom Leis
San Francisco Flower Mart
644 Brannan Street (Stall #30)
San Francisco, CA 94107
Phone: (415) 369-9099
Fax : (415) 369-9191
Hours: Mon-Sat 7:00 am - 3:00 pm.
Email : SoMaFlowers@gmail.com
---
Tips for your Lei!
If you do not plan you use your lei within the next 24 hours, please keep your lei cool. It is best to store it in a cool dark place in your house. If you choose to store the lei in the refrigerator, remove fruits and vegetables because the ethylene gas from fruits and vegetables can damage flowers. Also, place a lightly damp paper towel on top of the lei to keep a bit of humidity. Keep your lei in a lei box for best results. Do not freeze your lei, temperatures should not be below 45 degrees Fahrenheit. Avoid placing your lei in direct sunlight when not in use.